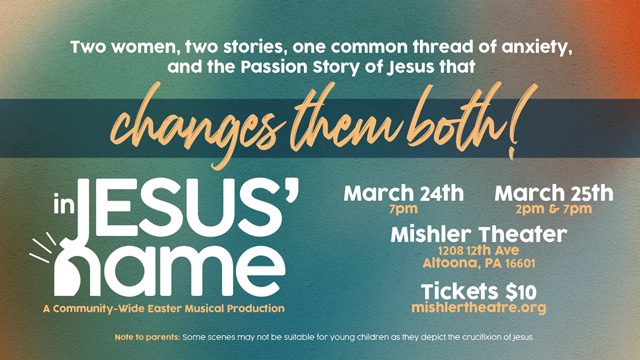 In Jesus Name
21
21 people viewed this event.
Community wide Easter Musical Production
"In Jesus Name"
March 24th at 7:00pm and March 25th at 2:00pm and 7:00pm.
Location is the Mishler
Tickets are available at https://mishlertheatre.org/
Synopsis:
Presented by Joy In The City and multiple churches from our community, In Jesus' Name is a musical production that parallels a modern day story of a teenage girl battling anxiety, a teacher who mentors her through this struggle and the story of Martha, sister to Lazarus as she also confronts issues of anxiety and comes to freedom through experiencing the passion story of Jesus Christ. The production will entertain you through comedy, drama and music, but more importantly, will impact you emotionally and spiritually as you experience the journey of these two characters.   Tickets available at Mishler box office and online.  Information. available at 814-944-1948.