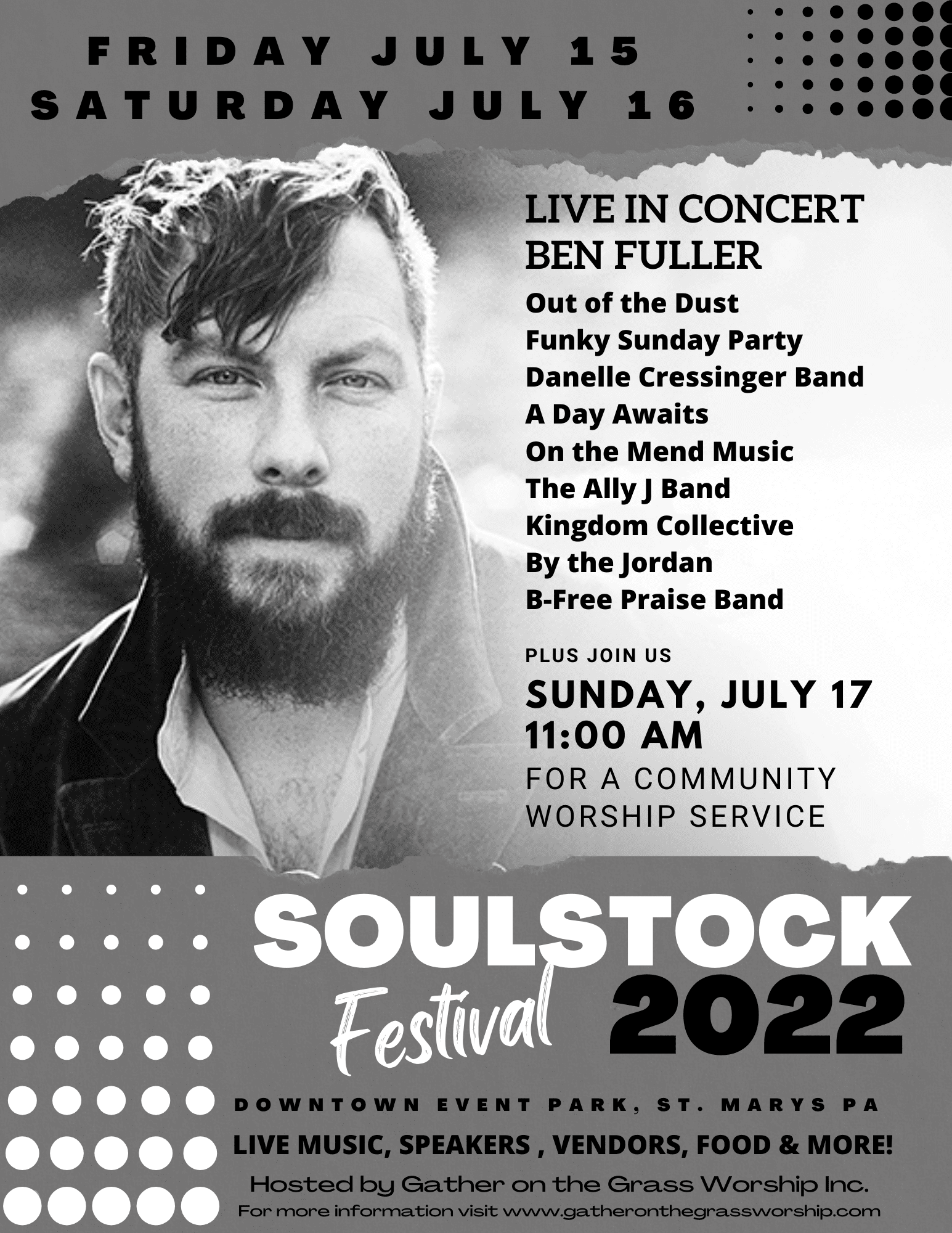 SoulStock 2022
18
18 people viewed this event.
Please join us for the 3rd Annual "SoulStock 2022 Festival" on Friday, July 15th & Saturday, July 16th from 11:00 AM until 9:00 PM, followed by a Community Worship Service on Sunday July 17th at 11:00 AM, at the Downtown Event Park on Depot Street in St. Marys, Pennsylvania!
SoulStock 2022 is a free community outreach event featuring uplifting entertainment including live contemporary Christian music, inspiring overcomer stories, food, craft & small business vendors, non-profit organizations, service providers, kids' activities and much more! All in a warm & welcoming atmosphere of family, fun and fellowship!
Headlining this year's SoulStock Festival is national Contemporary Christian Music recording artist, singer and songwriter Ben Fuller! Ben's recently released singles "Who I Am" and "Wide Awake" are climbing the music charts, as he travels the country telling his story of loss and redemption, after God set him free from many years of drug and alcohol addiction which began at a very young age. Ben's powerful voice, heartfelt lyrics and captivating stage presence truly show the anointing over this young man's life!
Also joining us this year for their first SoulStock performance on Friday evening are Nashville husband and wife duo, "Out of the Dust". Once married, then divorced, then remarried and redeemed, Chris and Steph Teague tour the country with their two young children carrying a message that has resonated with listeners and viewers across generational, racial and geographic borders. Their message is simply this… nothing is ever too lost and no one is ever too far gone to redeem! Their newly released EP "The After" contains 6 beautifully written, brutally honest and incredibly performed songs from the heart!
Adding to the list of inspiring musical performances featured at SoulStock 2022 are Scott Edward Jones (aka "Funky Sunday Party"), Danelle Cressinger Band, A Day Awaits, On the Mend Music, The Ally J Band, By the Jordan, Kingdom Collective and the B-Free Praise Band.
Just a few of the many powerful speakers who will be sharing at SoulStock 2022 are Pastor and Suicide Survivor Travis Habbershon of "The Story Tour" and "Made to Marvel Ministries"; Pastor Crystal Owens of Victory Church in Morrisdale, PA., and Pastor Chris Welborn of Soul Revival Biker Church in Nashville, TN.
SoulStock 2022 is hosted by Gather on the Grass Worship Inc. For more information on SoulStock 2022 including the event schedule, visit our website at https://gatheronthegrassworship.com