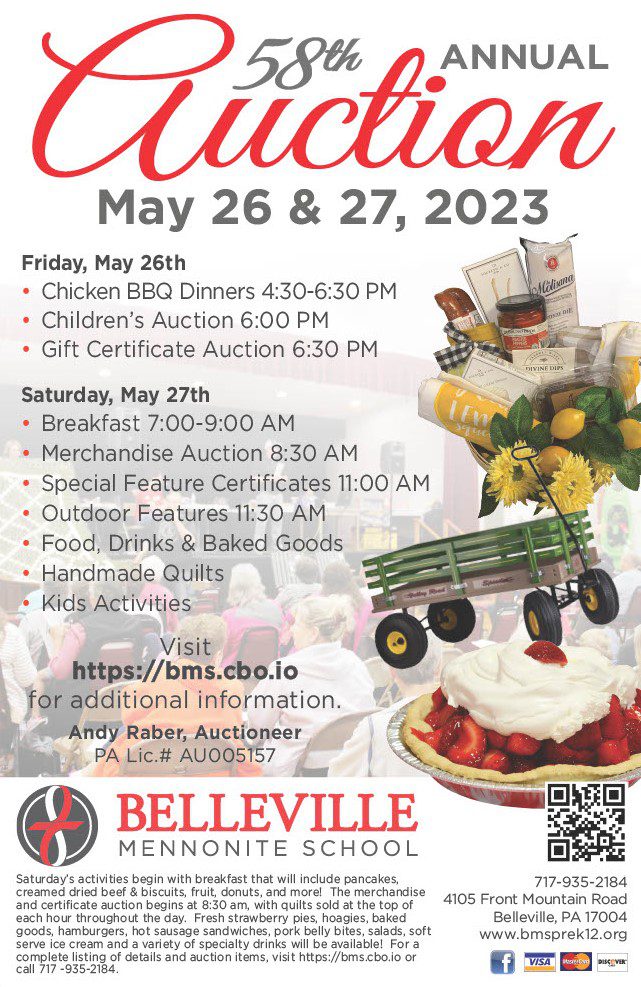 Annual Auction
66
66 people viewed this event.
Belleville Mennonite School is hosting their 58th Annual Auction on May 26th and 27th at the school.  Friday evening will feature a Chicken BBQ Dinner, Children's Auction & Gift Certificate Auction.  The dinner will be served in take-out containers from 4:30-6:30 PM with a variety of seating options available.  Children ages 16 and under are invited to participate as bidders for specially selected items at 6:00pm, and gift certificates will be auctioned at 6:30pm.
Saturday's breakfast options, served from 7:00-9:00 AM, will include cream dried beef w/ biscuits, pancakes, fresh fruit, and homemade donuts.  A wide variety of additional food such as hot sausage sandwiches, hoagies, soft serve ice cream, strawberry pies, and homemade baked goods, will be available throughout the day.
The Merchandise and Gift Certificate Auction begins at 8:30 AM.  Handmade quilts will be sold at the top of each hour, special feature certificates will be sold at 11:00, and outdoor features at 11:30.  Outdoor children's activities, sponsored by Harshbarger's Sub n' Malt, will be offered from 9:00-2:00 PM.  Come and enjoy this annual event with a vast selection of unique items donated by our generous sponsors, community businesses and friends! A complete listing of auction items can be found at https://bms.cbo.io.