"$ amount" to
844-244-2032
Your new automatic, electronic monthly gift of $20 to Way Truth Life Radio will allow your Christian Radio Station to continue its impact on many lives in Central Pennsylvania and expand to NEW locations in PA!  And just as important, your gift will help to multiply the spread of The Gospel by meeting a very real physical need for a family in a developing country! when you become a "Hope Partner" you provide a family with an Emergency Food Pack through Compassion International. You can also provide 4 Emergency Food Packs by joining the 1K Club with a gift of $1,000!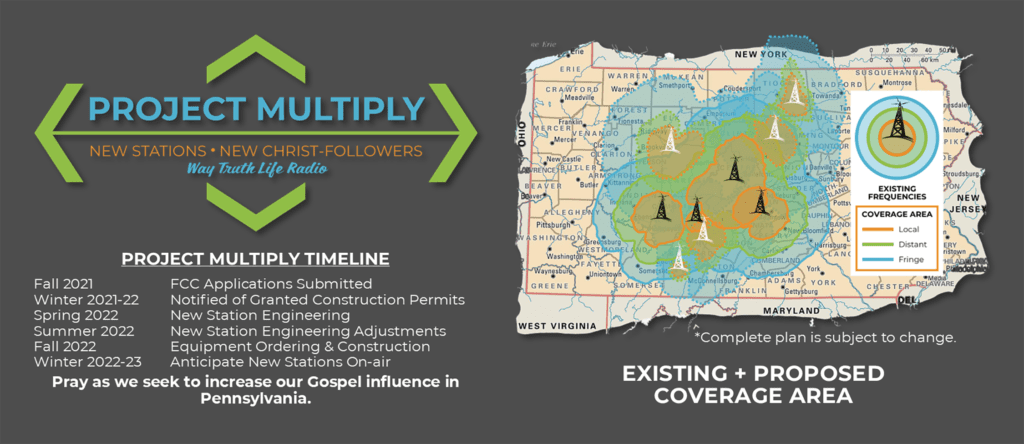 Support Way Truth Life Radio
"$ amount" to
844-244-2032
Can we make the assumption that you would agree with us that our mission field, as Christians, is growing
by the day? Every day we listen to the news and wonder, how can this be happening? We see the rapid
decay of morals in this country and around the world. We ask ourselves, what is going on?
Although we don't know the day or the time of Christ's return, we know He is coming back. As the world is
experiencing more unthankfulness, flaunting of sinful behavior, lawlessness, religious deception, war,
disease, economic issues, famine, and even changes in weather, we see the signs of His coming.
While we wait on Christ's return, Way Truth Life Radio invites all listeners to biblical salvation and Christ-centered living.
Our vision is to make the Gospel of Jesus Christ more accessible to more people throughout Central
Pennsylvania and around the world. We are inviting YOU to join us in our vision to strengthen believers and
point the lost to Christ. Will you help us do that?

Recently, Bill from Dornsife, PA summed up why Way Truth Life Radio exists. His words were very kind, and
we redirect all the praise to Jesus! Bill said:
''Just a short note to say I'm so grateful that God put people like you guys on this earth. People with a
passion to do a work spreading God's mercy, grace, love, and salvation out over the airwaves. With so
much negative in this world right now, a message of hope is so badly needed by lots of people. What
you do, brings joy and peace to the believer and hopefully salvation to those who don't know Christ as
their Savior. There are people who need a way out of their troubles and a way out of a dark valley they
might be in and the message you're sending is the way. People need the Lord. Thanks again for being
you.''
Please consider investing in Way Truth Life Radio during our Harvest Share this year. Your support of the
life-changing work of Your Christian Radio Station will be greatly appreciated. Because of others who
came before you, God's Word can be heard all over Central Pennsylvania on our growing network of
stations, around the world on WTLR.org, on your smart phone via our mobile app, and on your smart
speaker (if you use one). We want to make it easy for anyone to hear of the hope found only in Jesus!
If you believe in what we do, and the Lord of the harvest has blessed you and impresses upon you to share a
portion of those blessings with this ministry, we would be so grateful. We appreciate your consideration!
Our Harvest Share will be Tuesday through Friday, September 20-23. As a listener supported radio
ministry, we will appreciate any support you give to help us increase our Gospel influence through the
addition of 5 new full-power FM stations. (See reverse side.) Additionally, because of the dramatic increase
in the global food crisis, we have partnered with Compassion International to give you the opportunity to
help respond to this crisis. Our goal is to help as many families as possible receive Emergency Food Packs.
These Food Packs provide an entire household of five with a 2-week food supply of essentials like rice, eggs,
meat, milk, and corn. Tune in to hear how you can help – or click HERE to donate now.
As you consider our request, here are several donation options to consider:
1. A one-time gift of any amount;
2. Release an Emergency Food Pack as a Hope Partner with a new monthly electronic gift of $20 or
more.
3. Release 4 Emergency Food Packs for each $1,000, becoming a member of the 1K Club.
Please know that we appreciate each gift that you send – no matter the amount or the method you give by!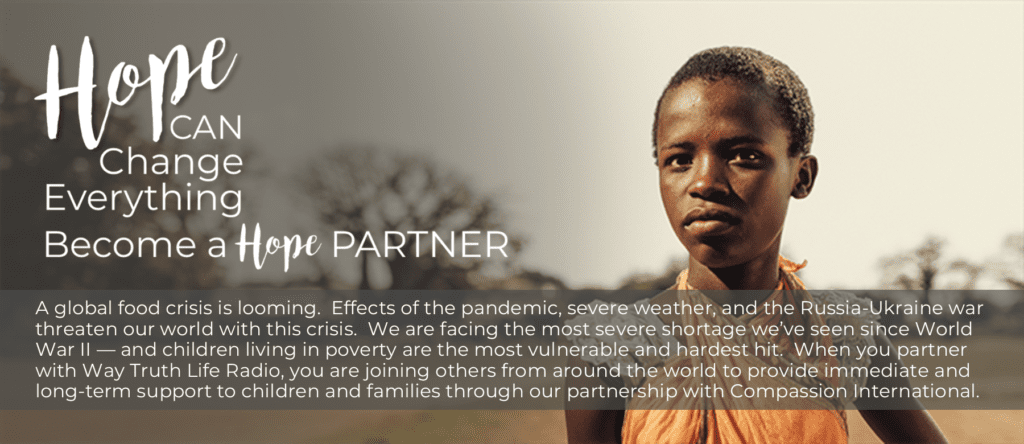 Our many listeners/donors make it possible for you to listen all over Central Pennsylvania and beyond.
Monthly donors David and Lois wrote: "We're sending extra money this time to aid in the expansion of
more radio station outreaches. We pray for you daily. Thank you so much for this incredible ministry and
all the hard work you put into it. May God continue to bless you and all the listeners out there!"
Another anonymous donor who gave toward PROJECT MULTIPLY (our new station construction) said:
"We continue to pray that this will lead to more people hearing the Gospel message, giving
encouragement and hope to them especially in these strange and turbulent times."
Our prayer is that the God of hope will fill all our listeners with all joy and peace as they trust in Him. If you
have a heart to see the lost saved and the saved grow in faith, ask the Holy Spirit what He would have
you do to help multiply HOPE to our region of the world. Thank you!