"$ amount" to
844-244-2032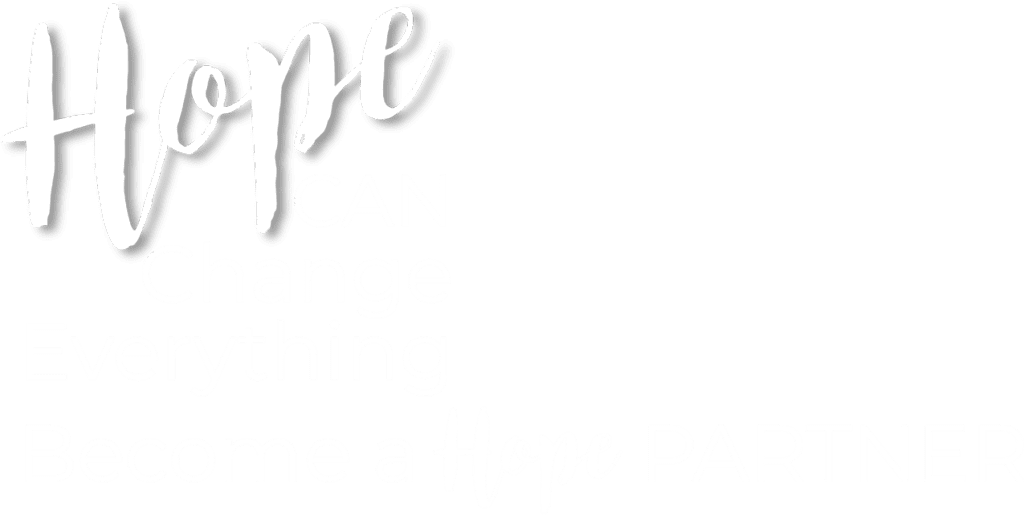 Your new automatic, electronic monthly gift to Way Truth Life Radio will allow your Christian Radio Station to continue its impact on many lives in Central Pennsylvania and beyond.  And just as important, your gift will provide hope by providing a family in a developing country with Covid-19 relief supplies for up to 6 months!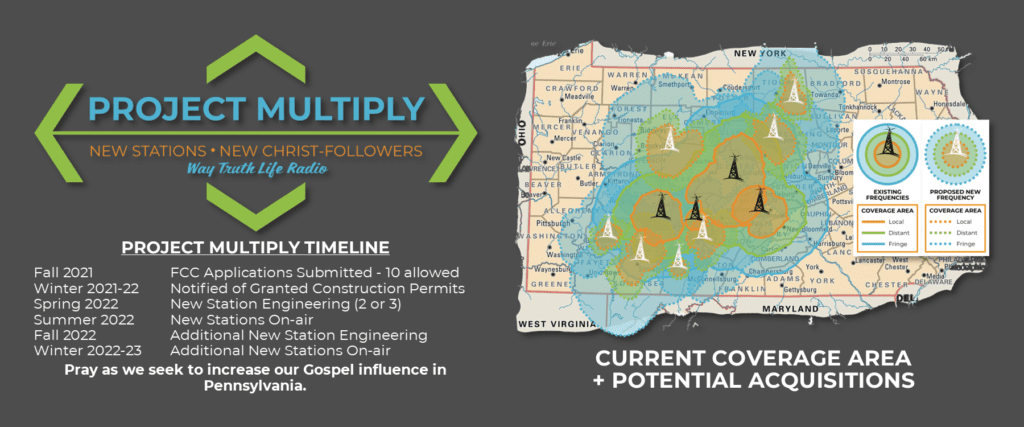 Support Way Truth Life Radio
"$ amount" to
844-244-2032
Despite what you hear on the news, there is hope for this world.  That hope is Jesus Christ!  Our mission at Way Truth Life Radio is to invite "…all listeners to biblical salvation and Christ-centered living."  We join the Apostle Paul in his prayer of blessing in Romans 15:13 (NIV): "May the God of hope fill you with all joy and peace as you trust in Him, so that you may overflow with hope by the power of the Holy Spirit."
Please take a few minutes to read about what is happening at Way Truth Life Radio.  God has blessed this ministry over the last 43 years by allowing growth of our FM broadcast listening area.  Currently, Way Truth Life Radio is a network of four (4) radio frequencies with an estimated population coverage of 1,000,000.  In addition, online streaming and the use of our mobile app allows Way Truth Life Radio to be heard around the world.  You can also tell your smart speaker: "Play Way Truth Life Radio."
Your help is needed to make Christ known among the people of Central Pennsylvania and beyond.
So, we wanted you to know about our upcoming petition to the Federal Communication Commission (FCC) where we will be requesting to expand our network by up to ten (10) additional full-power FM radio frequencies.  Any success in this request will allow a greater Gospel influence in Pennsylvania.  We are calling this effort PROJECT MULTIPLY – NEW STATIONS  NEW CHRIST-FOLLOWERS.  I am asking you to help us get these new stations on the air by partnering with us in prayer and financially.  As the days grow ever darker, your friends, neighbors, and fellow Pennsylvanians need the hope found in Jesus Christ.  We know this Hope Can Change Everything!
Judy wrote: "We are so blessed to have a Christian radio station available 24/7/365 days a year.  You are all such a blessing.  I am praying Christian radio will be with us till He returns."  Your gift will put feet to Judy's prayer by helping us stay on the air and also increase our Gospel influence through new stations.  If you believe in what we do, and the Lord of the harvest has blessed you and impresses upon you to share a portion of those blessings with this ministry, we would be so grateful.  We appreciate your consideration!
Our Harvest Share will be Tuesday through Friday, September 21-24.  As a listener supported radio ministry, we will appreciate any support you give to Your Christian Radio Station.  Additionally, because the need is still very great in developing countries around the world, we are continuing our partnership with Compassion International and their distribution of COVID Relief Kits.  Our goal is to help as many families as possible in low-income countries receive the critical supplies needed.  These families are among the most vulnerable and need your immediate help.  The COVID Relief Kit includes about a six-month supply of hand sanitizer, soap, household cleaning supplies, protective masks or materials to make them, vitamins and supplements, and information on how to prevent infection.  Tune in to hear how you can help.
As you consider my request, here are several donation options to consider:
A one-time gift of any amount;
Become a Hope Partner through a monthly electronic gift* of any amount – this releases a COVID Relief Kit. *A gift automatically deducted from your checking account, credit card, or debit card.
Become a member of the 1K Club with your gift of $1,000 or more – each $1,000 releases 3 COVID Relief Kits.
Please know that we appreciate each gift that you send – no matter the amount or the method you give by!
Our many listeners/donors make it possible for you to listen all over Central Pennsylvania and beyond.
One of our monthly donors, Bob, said: "Thank you for keeping God's Word and good music coming our way.  God touches and changes lives but you guys are the 'vehicle' that makes it possible for people to hear the Good News over the airwaves, wherever they are and whatever state they are in.  God saves through His shed blood on the cross but He uses willing people like you to do His work."
Another longtime listener and donor, Gloria, said: "…God is working through you always.  Thank you for renewing our hope for 30 years on air and online – you make a difference!!!"
Luanne told us: "My son is incarcerated and listens to your station every day.  This donation is from him."
Our prayer is that the God of hope will fill all our listeners with all joy and peace as they trust in Him.  If you have a heart to see the lost saved and the saved grow in faith, ask the Holy Spirit what He would have you do to help multiply  HOPE to our region of the world.  Thank you!