"$ amount" to
844-244-2032
BE A "GOSPEL SHARE PARTNER"

Your new automatic, electronic monthly gift of $40 to Way Truth Life Radio will allow your Christian Radio Station to continue its impact on many lives in Central Pennsylvania and expand to NEW locations in PA!  And just as important, your gift will help to multiply the spread of The Gospel in Ghana, West Africa by providing someone from the region a solar powered radio, fixed to a local Christian station (Radio Gaakii) and including the New Testament, on demand, in their language. You can also provide 3 radios by joining the 1K Club with a gift of $1,000!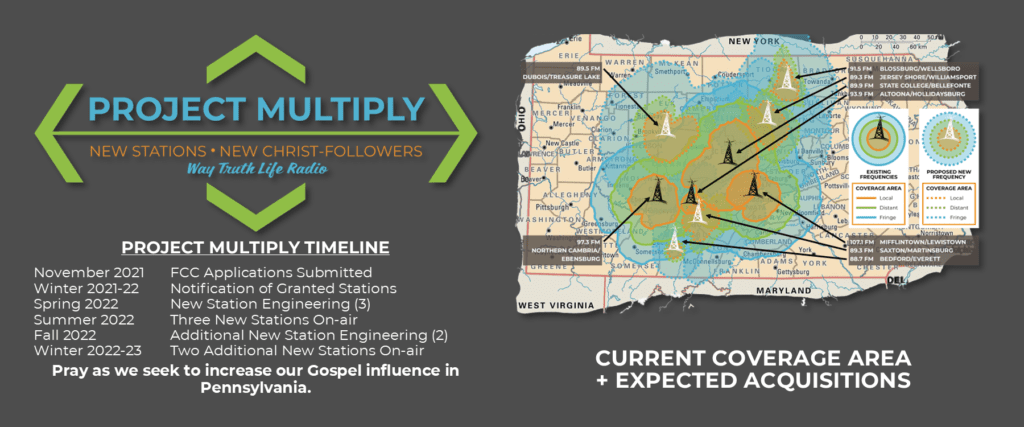 Support Way Truth Life Radio
"$ amount" to
844-244-2032
2022 is a pivotal year at Way Truth Life Radio. We are multiplying! Our staff has already multiplied in that we added two new members in January of this year. Our Board of Directors is multiplying. Also, plans are being laid to multiply the number of stations in the Way Truth Life Radio network. Lord willing, we expect to add five new stations in the next twelve months. We have been asking the Lord of the Harvest to multiply our gospel influence in Central PA. As of this posting, we have been granted two of the stations by the FCC.
The multiplication process is underway, and we need your help to broadcast the gospel of Jesus Christ to all who will listen throughout Central Pennsylvania and beyond.
Shelly wrote: ''Any time I am in my car or have the radio on at home, it's always tuned to [Way Truth Life Radio (WTLR)]. When we travel, we always listen to WTLR online. It's like I feel lost if I have not heard WTLR for a while. What I really like to do is when I am on my riding mower, mowing my 3+ acres, I love to listen to WTLR. It's such an inspiration and I feel like something always touches my soul all the time. Love you guys, keep up the good work.''
Currently, Way Truth Life Radio has the ability to provide inspiration and touch 1,000,000 souls in Central PA. We also reach around the world with our online broadcast, our mobile app, and on any smart speaker. We will appreciate your support to keep this vital community asset on the air.
I wanted to let you know that our annual Spring Share is Tuesday, April 5 through Saturday, April 9 and your help is needed more than ever to keep us moving forward. Please let us know that you will stand with Way Truth Life Radio over the next year by contacting us prior to or during our Spring Share. We ask that you prayerfully consider the frequency, amount, and method of your giving as we MULTIPLY.
In order to MULTIPLY THE GOSPEL REACH of Way Truth Life Radio even further, we are partnering with Galcom International USA. We are working with Galcom to place solar-powered FM radios in the hands of the Leemah* people of Ghana, West Africa. The radios will receive a signal only from Radio GAAKII 88.3 FM in Saboba, Ghana. These radios also include an audio New Testament in the Leemah* language. Our plan, with your help, is to MULTIPLY the gospel influence among the Leemah* people in addition to the people of Central PA. We ask that you consider becoming a Gospel Share Partner with your qualifying gift.**
On average, one radio is listened to by ten people. Help us place the gospel in the hands of 125 Leemah people which can reach the ears of 1,000 in Ghana. Simply donate online indicating you wish to join our automatic giving program by having your gift drafted from your checking account, credit card, or debit card. **A minimum monthly gift of $40 or more given electronically makes you a Gospel Share Partner and provides a radio. Or, a one-time gift of $1,000 puts you in our 1K Club and will release 3 radios. By joining us in this effort, you help continue the work of Way Truth Life Radio while also providing access to quality Christian programming and the Word of God for the Leemah* people!
Thank you for considering my request and please know that we will appreciate any gift that you send – no matter the amount or the method by which you give!
May the Lord bless you!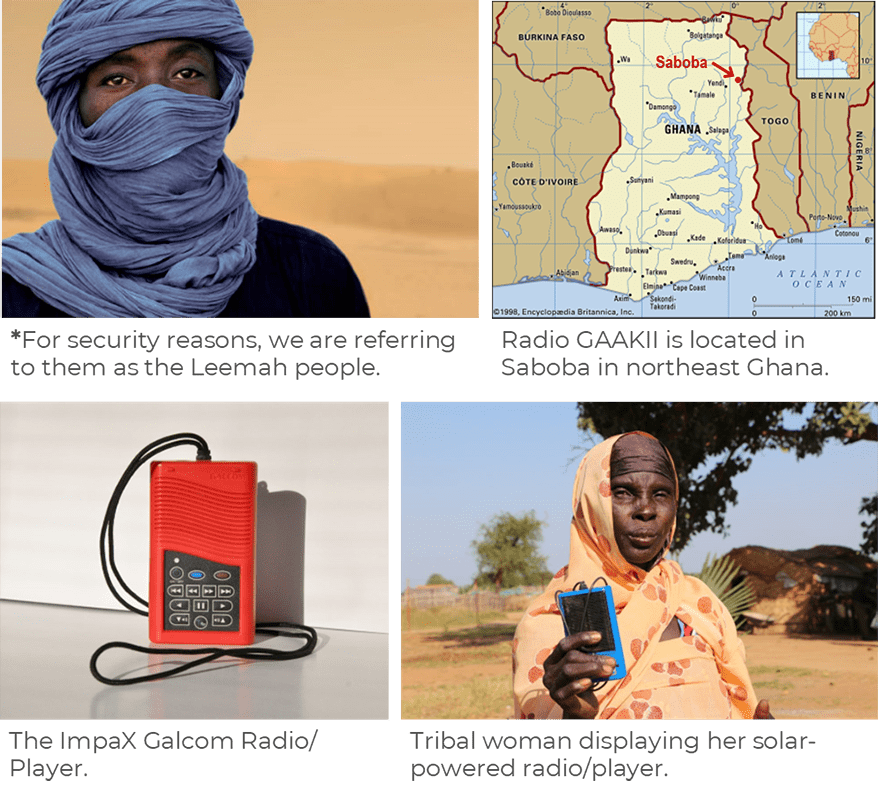 What Is A Gospel SHARE Partner?
Won't it be fantastic when we stand before the throne of God in heaven one day and see the fulfilment of what John wrote about in Revelation 7:9-10?
After this I looked, and behold, a great multitude that no one could number, from every nation, from all tribes and peoples and languages, standing before the throne and before the Lamb, clothed in white robes, with palm branches in their hands, and crying out with a loud voice, "Salvation belongs to our God who sits on the throne, and to the Lamb!"
You have the opportunity to provide the means by which more people can be added to the family of God.  Perhaps it will be someone from one of our new listening areas such as DuBois, PA or maybe someone from Saboba, Ghana, West Africa.  Will you help Way Truth Life Radio MULTIPLY THE GOSPEL REACH here in Central Pennsylvania and in Ghana?
We have a great opportunity to help reach the Leemah* people with the Good News of Jesus Christ.  The Leemah are an agrarian people who tend livestock and cultivate crops.  They are skilled in the art of barter, live in mud huts, have arranged marriages, and are governed by a tribal Uro (chieftain).  They became Islamic beginning in the 18th century through contact with warlike Muslim tribes spreading south from North Africa.  They practice a mixture of Islam and tribal religion based on placing fearsome spirits with witchcraft, fetishes and amulets.
The Galcom ImpaX Fixed-Tuned Radio/Player will receive transmissions only from Radio GAAKII 88.3 FM.  In addition, the player portion of the solar-powered device will include the full Leemah* New Testament, the Way of Righteousness (115 Leemah* gospel messages contextualized for Muslims), and another batch of gospel messages in Leemah*.
Reaching these people will not be easy.  But by God's grace, with prayer, persistence, partnership, and a deep work of God's Spirit, their hearts will be changed.  Please consider becoming a Gospel Share Partner and provide the life-changing spoken message of Christ for the Leemah* people.  While at the same time, you will be supporting Your Christian Radio Station right here at home.